Wybierz swoje fotopuzzle:
Wideo: Fotopuzzle ze zdjęcia. To takie proste.
Dla wszystkich, którzy chętniej patrzą niż czytają: w tym krótkim filmie zaprezentujemy Ci nasze fotopuzzli Premium, ich warianty i pokażemy, jak prosto można je zaprojektować na komputerze. Przekonaj się, jak wyglądają nasze wysokiej jakości pudełka i jak zbudowane są pojedyncze puzzelki - w filmie jeszcze jaśniej i bardziej realnie.
Różne wielkości puzzli
Różne warianty pudełek do puzzli
Szybkie i proste projektowanie online
Odkryj nasze wyjątkowe fotopuzzle, by pokazać swoje najpiękniejsze zdjecia. Kurtyna w górę, film się zaczyna!
Indywidualne pudelka do puzzli - to więcej niż tylko opakowanie
Rama do puzzli nada im indywidualny wygląd
Dodatki do puzzli dla jeszcze większej frajdy
Na końcu liczy się jakość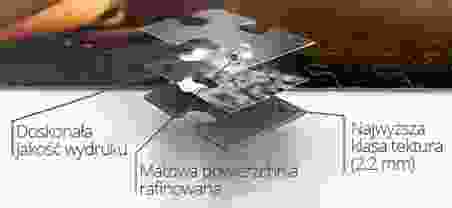 Miło jest być klientem, o którego się dba, dlatego jakość naszych fotopuzzli jest dla nas bardzo ważna - od ich wytłaczania po pokrycie warstwą zewnętrzną. Cały szereg poszczególnych kroków daje nam pewność, że również po latach będziesz mógł się cieszyć jakością swoich fotopuzzli. Dlatego dajemy Ci gwarancji jakości - bez żadnego ale. W końcu nie chodzi o jakieś tam, tylko o Twoje osobiste puzzle.
Pomysł na prezent fotopuzzle
Baw się dobrze swoimi puzzlami
Układanie puzzli to świetna zabawa. Nikogo nie zdziwi więc, że fani puzzle odkryli dla siebie temat fotopuzzli. Oklepane motywy już się znudziły. Puzzle z własnymi motywami zagościły w naszych domach. Ale dlaczego układanie puzzli jest takie fajne? Każde puzzle to przede wszystkim wyzwanie, którego się chętnie podejmujemy. Ulubione zdjęcie na puzzlach jeszcze bardziej motywuje, by jak najszybciej dojść do celu. Miłośnicy puzzle mówią też o relaksie, jaki daje im ich układanie.
Są osoby, dla których artystyczne walory fotopuzzli stoją na pierwszym miejscu. To ci, którzy po ich ułożeniu nie burzą swojego dzieła i nie chowają od razu w pudełku. Zamiast tego wkładają ułożone puzzle w ramę i wieszają na ścianie. Dla nich rama jest pierwszy krok w kierunku własnej galerii.
Jak wybrać fotopuzzle?
Ilość elementów decyduje o stopniu trudności
Mamy w naszej ofercie fotopuzzle z 48, 100, 200, 500, 1000 i 2000 elementów. Nasz cel to spełnienie wszystkich oczekiwań co do puzzli. Zarówno osób początkujących, jak i profesjonalistów. Ogólnie rzecz biorąc: im więcej puzzelków i im mniejsze one są, tym trudniej. Puzzle z mniejszą liczbą elementów, które są stosunkowo duże, są odpowiednie dla dzieci i osób starszych. Jeśli trudno Ci zdecydować, jakie puzzle są odpowiednie dla jakiego wieku, zasugeruj się naszą podpowiedzią podaną na stronach dotyczących poszczególnych wariantów puzzli.
Zamawianie i dostawa fotopuzzli
Najpierw zastanów się, czy chcesz użyć jednego czy kilku zdjęć do swojego projektu. Jeśli decydujesz się na jedno zdjęcie, program wyświetli Ci od 1 do 5 gwiazdek, w zależności od tego, jak bardzo dane zdjęcie nadaje się na motyw puzzli. Pamiętaj: zdjęcia w różnych kolorach łatwiej jest układać niż duże, jednokolorowe powierzchnie. Projektując pudełko wybierz tytuł, który zostanie wydrukowany w 1-3 linijkach na przykrywce.
Z pudełką.
Nasze fotopuzzle wysyłane są nieułożne, w indywidualnym pudełku, które służy również za opakowanie prezentowe. Jeśli sobie życzysz, wydrukujemy na pudełku motyw puzzli i Twój własny tytuł. W zależności od okazji, masz do wyboru ponad 80 szablonów pudełek - od tematu urodzin po piłkę nożną. W zależności od projektu pudełka możesz zdecydować, czy motyw puzzli zostanie wydrukowany na pudełku czy nie. Funkcja ta jest szczególnie przydatna, jeśli motyw puzzli ma być niespodzianką.
W kolejnych krokach masz możliwość zamówienia takich dodatków jak rama do puzzli, klej do puzzli albo mata do puzzli. Po złożeniu zamówienia otrzymasz od nas maila z linkiem, pod którym sprawdzisz aktualny status zamówienia jak i przewidywaną datą wysyłki. Wraz z przekazaniem gotowych fotopuzzli firmie kurierskiej otrzymasz maila z możliwością śledzenia przesyłki.